Don't Be Fooled - Pajama Clad Jackson Arrives Late To Court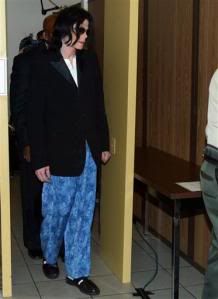 *UPDATED*
It's the second day of the accuser's testimony. You know, the boy who says Michael Jackson plied him with wine and molested him? These are serious charges and this day in court one of the most important in the whole trial. So of course, the headlines were set to reflect that. Well, that was until Michael Jackson arrived.
You'd think that being over an hour late and the subject of a fresh warrant would be enough. But no. Sporting unbrushed scraggly hair, blue pajama bottoms, and a pair of slippers, he slowly and dramatically walked into court on the arms of two bodyguards.
And what was his reason for all this? Back problems. Amazingly, he had 'severe back problems' at just the right time to make a scene and dominate the day's headlines.
Don't be fooled.
What are the odds that:
1) His back would give out during the very small time period of the accuser's testimony.
2) That it would coincidentally happen at a time that would make him late for court in the morning.
3) That
none
of the hundreds of people working for him could have brought some clothes or shoes over.
4) That no one was available to brush his hair.
5) That even though he was 'rushed to the hospital' at 5:45 a.m., none of his people were able to contact the court and let them know he might be late.
6) That even with his back thrown out, he would be able to
instantly spin all the way around
and wave to a fan. (Yes, this happened on the way into the courthouse...in between him walking veeery slowly and hanging on to the bodyguards.)
Yeah, exactly. Sounds like a bunch of lame theatrics crafted to distract from the day's events...again. This isn't the first time MJ has pulled a stunt like this. And guess what, it probably won't be his last. Why? It works. And he gets away with it.
But let's not forget why this day was so important in the first place:
(
From Reuters
):
The boy, a cancer survivor, told of how Jackson gave him wine, calling it "Jesus Juice," and then plied him with vodka, whiskey and rum, even though the youth warned Jackson he had only one kidney and should not drink.

...The boy said Jackson played a "let's pretend" game with him in which the youth pretended to be a student who did something bad at school and Jackson was the principal.

Then the youth said Jackson gave him a soda can with wine in it and asked if he had ever heard of "Jesus Juice." "He told me, 'You know how Jesus has drunk wine. Well, we call it Jesus Juice,"' the boy said.

He told the court how Jackson had given him his watch and a black jacket and told him not to discuss being given wine.

The boy said that when Jackson and his family returned to Neverland from Miami he and the entertainer did heavy drinking of vodka, bourbon and rum in the star's bedroom and other parts of Neverland.

"I told him it was bad for me to drink alcohol and he said it was okay and that nothing was going to happen."

(
From The AP
):
The witness told the jury that at some point Jackson showed him sexually explicit magazines found in a briefcase belonging to an employee. He said Jackson made a statement deriding the employee for having the magazines, but that he and the pop star looked at them for 30 minutes to an hour.

...The boy told the jury that he and his brother were once on Jackson's bed at Neverland when the singer came in naked, but the account differed from earlier testimony by the brother.

"He just ran up there and got something and then went downstairs," the witness said.

His 14-year-old brother had said Jackson came in naked and aroused and said it was "natural." But the accuser made no mention of Jackson being aroused, and did not recall the singer saying anything.

"Me and my brother were kind of like 'Eww!' because we never saw a grown man naked before," he said.

Hmm, I wonder why he would want to distract us?
More Michael Jackson Posts:
God Punishes California
Damn! MJ Found Not Guilty
MJ Is Black? Yeah Right!
Meanwhile In MJ's Bed...
Michael Jackson's Face Pt 2
Michael Jackson's Face