Meanwhile In Michael Jackson's Bed ...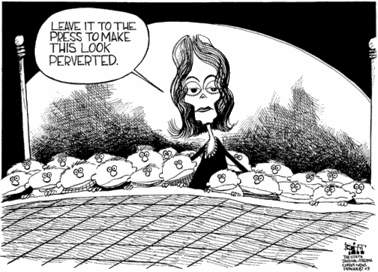 Kinda funny. Kinda sick. But it does make a good point. And of course now I have to go
wash my eyes out with bleach
...
again
....
and again
. Don't even look at this one, no really
I mean it
.
For now, if you want to see more cartoons check out
cagle.com
.
More Michael Jackson Posts:
God Punishes California
Damn! MJ Found Not Guilty
MJ Is Black? Yeah Right!
Don't Be Fooled
Michael Jackson's Face Pt 2
Michael Jackson's Face