Don't Mess With The Girl Scouts ...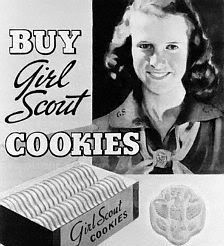 Listen up all you deadbeats!
The Girl Scouts
aren't going to take your crap anymore:
(Source:
The AP
)
WAUKESHA, Wis. - Girl Scout cookies aren't free, as a few alleged deadbeats are about to find out. One scout group has filed small-claims lawsuits against people who failed to pay up.

Christine Slowinski, communications director for the Girl Scouts' Great Blue Heron Council, said the legal action Thursday came only after several efforts to collect the money from sales of cookies in the annual fund-raising campaign over the past two years.

The amounts owed by two couples and three other women ranged from $301.42 to $1,485.68.

"We call many times before taking this step," Slowinski said. "We send them letters. When all else fails, this is our last resort."

Form letters that preceded the legal action read, "Please note that nonpayment for Girl Scout cookies represents fraud," and advised the non-payers to arrange a repayment plan.

My question is, who the heck spends hundreds or even thousands of dollars on
Girl Scout cookies
? And who would want to cheat the Girl Scouts anyway, how pathetic is that?
More:
'Woman Jacks Girl Scout Cookies'
'Girl Scout Cookies And Office Politics'
A messed up Girl Scout. (Video)