30 Days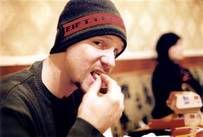 By the way, seen the new show '30 Days' on
FX
...it was really good.
Morgan Spurlock
(of '
Super Size Me
' fame) and his fiancee tried to live on
minimum wage
for 30 days.
It was both entertaining and sad at the same time. Well, mostly sad really since people live like that all the time...and they don't get to go back to a Hollywood life after 30 days either.
And what lesson did I learn from the show? If you're poor
don't ever
go to the hospital or the doctor.
Other 30 Days Lessons:
You Can't Solve A Drinking Problem With Alcohol
Hippie Life Is Not The Answer
Gays Can Be Bigots Too
Don't Go To An Imam For Advice
Steroids = No Sperm
30 Days
More:
Morgan Spurlock's Blog
30 Days Website