Not Even The Amish Can Resist Walmart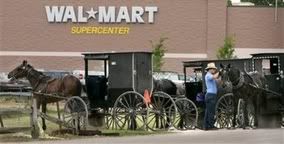 Hey isn't this one of the
signs of the apocalypse
?
(Source:
Khon News
)
Wal-Mart opened it's first Amish outlet in Ohio.

The store includes a section for electricity-free appliances.

In addition to Wal-Mart's traditional products like clothes and produce, they also have some specialty items just for the Amish.

The store carries blocks of ice, they have an expanded fabric section with unique materials, and they even added a 30,000-square-foot parking lot with hitching posts that can hold up to 84 buggies.

More:
'Amish Roll With Change'
'Ohio Walmart Caters To Amish'
'The Amish Exposed'
The Amish Homepage
A good site to for basic information about the Amish.
WalmartSucks.com
Walmart.com