What A Shame: Still No Apology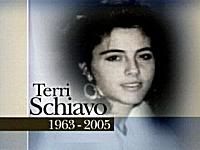 Well it's over.
Jeb Bush
was forced to give up the chase by his most powerful of opponents,
the truth
...
(Source:
Reuters
)
Florida Gov. Jeb Bush has dropped his pursuit of an investigation into the 1990 collapse of Terri Schiavo after a prosecutor said there was no indication of foul play that led to her irrevocable brain damage.

Gov. Bush...said there were indications of a 40- to 70-minute gap between the time Michael Schiavo discovered his wife after she collapsed 15 years ago and the time he called for medical assistance.

But Pinellas County State Attorney Bernie McCabe, who conducted the probe, wrote Bush on June 30 that there were explanations "far more likely and logical than any involving criminal wrongdoing" surrounding Schiavo's collapse.

...McCabe based his recommendations to Gov. Bush on a report by investigators that found that there was no indication of culpability and that Michael Schiavo's actions following her collapse appeared consistent with a distraught spouse trying to save his wife's life.

"Without proof of criminal agency, there can be no hope of prosecution," the investigators concluded.

So he was proven wrong. Again. Yet once more, cold hard facts did nothing to change the posturing of Jeb Bush...or really any of those in the anti-Schiavo faction.
How is it that people can continue to act that way, even though it flies in the face of
reality
?
The most shameful part of it all is that there has been no apology offered to Michael Schiavo. Time has proven him to be in the right. Yet he continues to be slandered and treated like a criminal by political opportunists and religious extremists.
Listen, I understand that people have a right to believe whatever they want. But if you treat someone like crap and it turns out that
you're
the one that's wrong...you're supposed to say 'Sorry'. Hell, even kids in kindergarden know that.
But maybe that's too much to expect from some people.
More:
'Pols used Schiavo for their personal gain'
- One of the best editorials I've ever read on the Schiavo case.
'Schiavo case finally closed'
The Disenchanted Forest
'Not With A Bang, But A Whimper'
Florida Pilot
'Damage Control In The Terri Schiavo Case'
- A previous post I did on this topic.