Picture: Burger King Offends Allah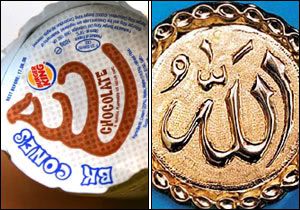 From
news.scotsman.com
:
...Burger King, is withdrawing its ice-cream cones after the lid of the dessert offended a Muslim.

The man claimed the design resembled the Arabic inscription for Allah, and branded it sacrilegious, threatening a "jihad".

The chain is being forced to spend thousands of pounds redesigning the lid with backing from The Muslim Council of Britain. It apologised and said: "The design simply represents a spinning ice-cream cone."

The offending lid was spotted in a branch in Park Royal last week by business development manager Rashad Akhtar, 27, of High Wycombe.

He was not satisfied by the decision to withdraw the cones and has called on Muslims to boycott Burger King. He said: "This is my jihad. How can you say it is a spinning swirl? If you spin it one way to the right you are offending Muslims."

Yah, ok...so this was Burger King's big plan to attack Muslims by...putting Allah's name on top of ice cream?? Please.
Anyway, if this guy wants to see some real Muslim sacrilege he should take a look at
Mecca Cola
: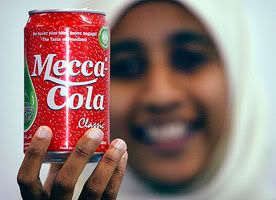 Hmm, lets see...a picture of ice cream that vaguely resembles the Arabic inscription for Allah or a Coca-Cola rip off that uses the name of
the holiest site of Islam
to market sugar water to Muslims? Which one do you think deserves a
jihad
?