The "Free" Credit Report Scam...Where's the only place to get a truly free report?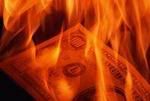 Don't be fooled by those commercials that promise a "free" credit report. When you go to their website they ask for your credit card number and enter you into a "free" 30 day trial.
Yeah, well guess what it's damn near impossible to keep them from charging your card...even if you cancel by phone. And worse, often your information is sold to numerous third parties who (since you've already proven to be trusting) then try to scam you some more.
Could it really be that bad? Take a look for yourself, here's some consumer experiences with a popular "free" credit report company posted at
ripoffreport.com
(which is an excellent site BTW):
Posted by
Opal from Warren, Michigan
:
My boyfriend and I logged onto "freecreditreport.com", we got our credit report and then immediatly called and cancelled the membership so we wouldn't get billed.

On the 3rd of the following month, we had two $9.95 fees taken out of our bank account. We called again to cancel and they had no record that we had cancelled already. we were broke and I then had $66.00 in overdraft fees charged to us from our bank.

We faxed complaints to "CIC's, Consumer Relations" and received $19.90 back in our account. No response via phone or e-mail from them.

We then were billed $9.95 two times again the following month. I called they said that they weren't sure why because my account had been cancelled. We then checked via my boyfriends info. He was charged even though we cancelled it twice now, yet they had no record.

We filled out forms with our bank to try to get our money back.

Please help. Freecredit report.com has helped ruin my credit. I have had over 4 overdraft fees because of them and have no way to prove we cancelled this over and over.

What a RIP-OFF!!!!

Posted by
Stefanie from Puyallup, Washington
:
I went to the site to get my free credit report, it said I could cancel before 30 days was up and I wouldn't be charged anything. I have been charged 2 times by them and it has only been 3 weeks. I sent a email saying to cancel the account. I got a response and it said it would cancel it and they were sorry to see my go, but I have been charged the second time since then and I still get monitoring sent to my email.

Posted by
Chris from Ohio
:
I purchased a credit report and ended up getting a thirty day "free" trial of a credit monitoring service. I cancelled it right away. But 30 days later I was charged 79.95 anyway.

I called when this happened and ended up calling three times. I was given the run-around each time. The people were very argumentative and meaner with each phone call.

Needless to say I didn't get my money back. I filed a dispute with my bank and cancelled the card.

Also, because of this purchase, 3 other companies "credit privacy, protection, etc.", possible affiliated, charged my account 260.00 in three separate charges which are also being disputed.

The only place to get a truly free credit report is
annualcreditreport.com
. It's run by the
FTC
and you can get one free credit report from them every twelve months. Now before you go to the site and check your credit here's some tips:
Choose Equifax
Don't be suckered into buying 'extras' on your credit report unless you really need them.
Print out all the info on our credit report and put it in a place where you'll be able to find it easily. It only takes a minute and will save you a lot of hassle down the road.
Remember, any info that you give them (like your current address) will most likely be entered into the 'system'.
If your credit sucks, don't contact those "nonprofit" credit counseling/consolidation places advertised on t.v. and radio...guess what? They're usually scams too. Do your own research and educate yourself on the best ways to fix your credit. Sometimes your bank will help you with this (but be careful.)
More:
'How to read and understand your credit report'
'Marketer Of "Free Credit Report" Settles FTC Charges'
Is it legal for debt collectors to harrass you?
How is your credit score calculated?
Video: Frontline 'The Secret History Of The Credit Card'
'Who are the good guys vs. bad guys in debt counseling?'
'Dealing with creditors on your own...tricks of the trade.'
'5 Steps To Improving Your Credit'