No I'm not dead, but...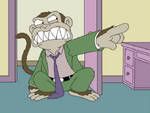 ...ya wouldn't know it from this blog huh? Don't worry I'm back in the swing of things now. No more letting real life get in the way of a fake one!
Seriously tho' there's more good stuff to come so stay tuned. Oh yeah and Hi to all the new readers and
FeedBlitz
subscribers out there.